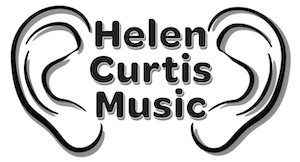 Helen has always loved to sing, but began to really discover that she had a voice after university when she became involved learning and performing songs and percussion from the Cuban and Brazilian traditions. It was during this time that she began to go deeper into exploring her voice and in particular singing accapella. Helen studied improvisation and harmony with Elizabeth Nygård, vocal Alexander Technique with Rachel Adie-Rhodes, and also attended workshops including Indian music. During this time Helen became very immersed in Georgian polyphonic music and began to explore the music of her Swiss maternal roots. Over the years she has built up precious links to song masters within Georgia and Switzerland, and has become known for her 'unwavering and crystal clear' voice, plus of course her skills in Swiss yodelling and krimanchuli (style of Georgian yodelling)
Helen sang with the jazz acapella quintet Solaris, and with the Georgian folk ensemble Samzeo, she also directed and helped to found the Leeds U3A choir. Helen sings coro's with leading Cuban band Charanga Del Norte and has sung with the project 'Journey of the Orixa's' with Global Grooves. She currently performs with her sister in the only Swiss folk vocal duo in the UK, Satteli, where their sibling harmonies often move people to tears. Satteli are currently working on an English set including original material. Helen also founded and directs the Hebden Bridge, community choir Zarebi, who specialise in Georgian song.
Helen has sang at various events,venues and festivals including Musicport, The Howard Assembly Rooms supporting the 'Warsaw Village Band', plus on the BBC Radio 3 programme 'Late Night Junction' with Sätteli.
To hear more of Helen's projects click listen
Helen is available for performances, workshops and singing tuition for those wishing to improve their voice generally, or who wish to go deeper into any of Helen's specialism's
For all queries get in touch via the contact page, or join the mailing list for information about upcoming events such as performances or workshops.