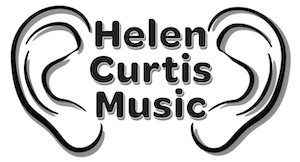 Helen who is half English and half Swiss is based near Hebden Bridge in the Calder Valley, West Yorkshire.
She works as a professional musician, group leader, workshop facilitator and is a very popular local piano teacher. Her groups in the community - Afro-Brazilian samba band Orixá Bloco and Zarebi, women's Georgian folk choir are well loved and admired for their high standard of music, and the quality of material performed.
Helen's professional performances with her sister in Swiss folk duo Sätteli often move people to tears, and acclaimed band Charanga Del Norte where she plays Cuban piano and sings coro's is said to 'even turn reserved English men into snakey hipped latino dancers....'
Helen's main instruments are piano, voice and percussion. Her foundation is in classical piano and percussion, and she holds a performing arts degree from Leeds College of Music. However since graduating in 2000 Helen - who has always had a very diverse musical taste, began to explore other musical genres.
Since then her years of specialist study and work have taken her to Cuba, Brazil, Switzerland and Georgia, and she has built precious relationships with the people and culture within these countries, including communities in the UK. Helen is very highly regarded by these communities as a gifted musician and teacher.
Helen has performed at festivals such as Musicport main stage, and sang in venues such as The Howard Assembly Rooms in Leeds. She is an associate artist with the carnival company Global Grooves. She has been featured on BBC Radio 3 's programme 'Late Night Junction' with Sätteli.
Helen believes that music can benefit everyone- scientifically it has been proven to alter and improve the brain. We all know the emotional effects that music has on us, whether we are the listener or the player. From sitting at home playing the piano, or performing/being on the streets at carnival, or performing on stage to being in the audience. It is a great builder of community, fun and self esteem, you can do it for love, do it as a challenge, do it because its something you've just always fancied, do it because you want to get out and meet cool people.
Music is intangible and an ever-lasting adventure.