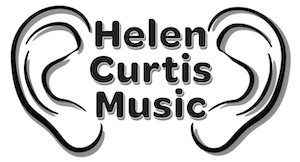 Piano lessons - Percussion lessons - Vocal lessons
Helen is a popular local piano teacher who enjoys teaching children, teens and adults, beginners to advanced and returning pianists. Helen directs Georgian choir Zarebi and is a very experienced workshop leader of acapella song. She is an artist with Global Grooves and has directed various percussion projects, including Orixa Bloco. Her style is known to be very encouraging, patient, fun, warm and friendly.
Covid information- As from 8th March 2021, face to face lessons are available to some under 18's depending on circumstances. Adults remain online.
Helens lessons can cultivate you or your childs musical development in the following ways-
Build a good foundation with good technique and habits
Cultivate a practice routine to suit the student
Develop confidence and ability
Learn to enjoy the time at your instrument - its what its all about surely!
Learn to read notation/rhythm and play creatively
Introduce varied music and styles of playing
Learn to listen
Work towards ABRSM grade exams or non-graded equivalents
Improve cognitive function and mental/emotional health
Any queries are warmly welcomed, please get in touch via the contact page
Prices for private tuition
Half hour trial lesson – FREE
£13 – half hr lesson
£19.50 – 45 min lesson
£26 – 1 hr lesson
Workshops
Helen is an experienced workshop leader and facilitator, she has a wealth of experience gained from her work as musical director in projects and regular groups. She specialises in Swiss folk/yodelling workshops and is one of the only specialist teachers of Georgian song in the UK. She is known for her clear and supportive teaching methods, and is very popular. She also hosts specialist teachers from countries such as Georgia plus UK specialists in percussion and song.
To keep up to date with workshop opportunities join the mailing list and if you are interested in booking Helen for a workshop please get in touch for an informal chat and to discuss costs.