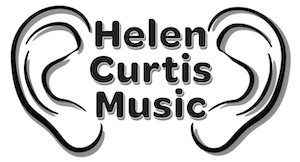 Live at The Vale - Helen's lockdown performance
Charanga Del Norte, Live recording of Bronx Pachanga using original recording techniques, and funded by The British Academy 2020.
Recital at the Clothworkers Hall, Leeds University playing with cellist Annemie Osborne.
Recital at Wakefield Cathedral with oboist and sister Louise Curtis
E.P recorded with Charanga Del Norte in 2017. Piano and vocals- Helen Curtis. Lead vocals- Guillermo Munroy. Violin- Nick Williams. Flute and vocals- Sue Miller. Bass- Ivan Pavon Martinez. Congas- Jack Mcarthy. Güirro- Christian Weaver. Timbales- Matty Shallcross.
'Sing Es Lied Für Mi' Swiss folk song sung by the Sätteli Sisters, Helen and Louise Curtis
Orixá Bloco at Handmade Parade in July 2018.- featuring the percussion arrangement Xango, written and directed by Helen Curtis
Studio recording of Solaris, acapella vocal quintet, with Helen Curtis, Ruby Wood, Jenny Smith, Sky Burton and Tessa Smith, singing a Chinese proverb arranged by Sharon Durant.
Piano performance at the Square Chapel, in Halifax.
'First Jütz' A traditional Swiss song without words, sang here in the fabulous acoustics of Rydal Caves in the Lake District.
Global Grooves, Creating Carnival 2016, The Tempest.
Project together with Satteli and with The National Trust 2020