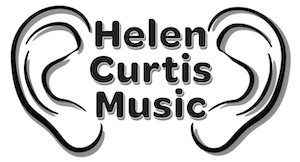 This was recorded in a live performance at Leeds University at the Clothworkers Hall, playing with cellist and dear friend, Annemie Osborne.
This 'rustic' sounding recording was made at Yorkshire College of Music and Drama. It features myself and Annemie Osborne
This is my sister Louise Curtis and I performing on oboe and piano at Wakefield Cathedral. The acoustics are perfect for this beautiful piece of music.
E.P recorded with Charanga Del Norte in 2017. Piano- Helen Curtis. Vocals- Guillermo Munroy. Violin- Nick Williams. Flute- Sue Miller. Bass- Ivan Pavon Martinez. Congas- Jack Mcarthy. Güirro- Christian Weaver. Timbales- Matty Shallcross. Backing vocals- Helen Curtis and Sue Miller.
This song, 'Sing Es Lied Für Mi' (which is also the name of our E.P) is the inspiration that began Sätteli
Orixá Bloco at Handmade Parade in July 2018. After only 1 year and 3 months of establishing the group, I'm very proud to present this. The tune in the track is an arrangment I wrote which is closely based on the candomblé rhythms for the Orixá Chango.
This is an arrangment I wrote based on the Belleville Triplets from the amazing animation 'Belleville-Rendez-Vouz by Benoit Charest. This is me singing as part of the accapella group Solaris, together with Jenny Smith, Ruby Wood, Sky Burton and Tessa Smith.
This is an arrangement Solaris used to sing. It is arranged by Sharon Durant and based on a Chinese Proverb.
This is me performing solo piano live at Square Chapel, in Halifax. Sulkhan Tsintsadze is a well loved composer from Georgia. These preludes are standard repetoire for piano students studying at Tbilisi conservatoire, which is where after much effort I eventually tracked down the scores!
This is a tune I wrote and is recorded with a previous band I directed some years ago, called 'Los Altibajos', there's a rather zany piano solo in the middle! Lead vocals- myself and my sister Louise. Piano- myself. Oboe- my sister Louise. Violin- Ywona Magda. Bass- Mike Sandell. Percussion - the late and sadly missed Adam Warne. Recording and mixing- Robin Wade.
I went to visit Rydal Cave with the sole purpose of singing this Swiss song called 'First Jütz' in these acoustics. It was magic.