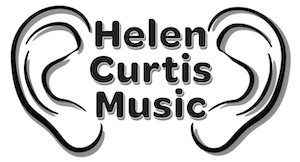 Helen is a very popular local piano teacher who enjoys teaching students of all ages from beginners to advanced and also pianists returning. Helen encourages students who wish to play simply for the love of it, for students wishing to take grades, for students who may want a career in music, and for those who want to do it for brain stimulation!
Helens lessons can cultivate you or your childs piano playing in the following ways-
Build a good foundation
Cultivate a good, regular practice routine that is realistic to the student
Learn to enjoy time at the piano - its what its all about surely!
Develop confidence and general skill by regular supportive lessons
Learn to read notation, interpet scores and play creatively
Introduce varied music
Learn to play by ear and/or transcribe favourite tunes
Cultivate good technique, tone and colour
Perhaps work towards a grade (1-8)
Helen's teaching style is supportive and fun, with plenty of laughs per lesson, yet also constructive with emphasis based on structuring a weekly practice that works best for the student and their life style.
Any queries are warmly welcomed, please get in touch via the contact page
Prices
Half hour trial lesson – FREE
£13 – half hour lesson
£19.50 – 45 min lesson
£26 – 1 hour lesson